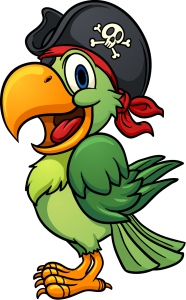 I briefly described the circumstances of naming a class with a motivational name in an article about class project Dragons.
Why Pirates?
I set the motivational name for the class project Pirates this time before the beginning of the next school year with new first-graders and we sailed together pirately this time for two years .
Class Project – Motivation
A strong inner motivation for me was that the freshman did not leave with any negative reaction to the fact that he was wearing a brown balloon, because it was assigned to us, just not unattractive, brown.
Class Mascot
So this time the class mascot – a Pirate Parrot, welcome documents, and class pirate ships with names trying to reach Treasure Island.
Thanks to his parents, pirate flags, pillows, chests, binoculars and other props, which undoubtedly belong "on the class deck" and completed during the first month, completed the class deck background with everything. p>
The children, parents and grandparents were enthusiastic, and I enjoyed it all the more and confirmed that the school class can also bear the name. And with pride. And big. And that it's not as "inappropriate and nursery" as I've ever heard from some. I believe that this has its justification and meaning.
Follow the Rules from the Island Road , which I tried to describe more extensively in the article Wandering the Islands – Rules in the Classroom.
The Pirate diary opened and writed every day.
The Pirate Diary was written monthly.
Crew members came up with their pirate names.
We went to a school in nature, where a large number of pirate loot was found, but several tasks and tests led to its acquisition.
The pirate rhymes about the whole crew consisted , which were presented at the classroom.
Diplomas and certificates had a parrot link.
We sang and composed our music hit.
They made a class a parrot on the wall
We designed class t-shirts for printing.
We visited a parrot breeder, where we had everyone professionally photographed with a parrot, and then an article about it was published in the breeders' magazine.
I ran a class website that followed children, parents, grandparents, and the general public with comments. Due to the GDPR, I no longer publish their message and it is under the motto.
We really enjoyed the whole two-year cruise and the final farewell and garden farewell with the thematic program and refreshments was really touching.